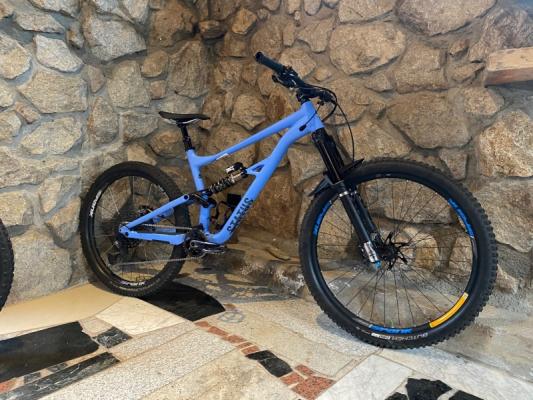 Bike of the Month & Newsletter May 2021
27 May 2021 1:51:39 pm NZST
Bike of the Month May 2021
Our May 2021 Bike of the Month is Dave's Specialized Status with Manitou Mezzer supplied by
Shockcraft
. Dave purchased the Mezzer from us earlier this year and we shipped it to him over in Australia.
Dave's feedback:
Deciding to take up mtb racing for the first time at 46 I knew I needed the suspension to soak up the bumps, keep the wheels to the ground, and make up for my mistakes. Having decided on the Manitou Mezzer Pros, I couldn't have been happier. There was no doubt that these forks saved me about 4 times in my first ever MTB race, keeping the bike upright and seeing me place 5th in the Masters at the Falls Creek round of the Vic Gravity series. Since then the Manitous have helped me place 1st (Masters) at Mt Buller and Mt Taylor Rocky Trail Super Flows, 2nd at Rd 5 of the Intense Cycles Gravity Enduro at Stromlo, and 3rd at the Mount Beauty round of The Vic Gravity Series. Once the suspension was dialled in, my racing confidence grew allowing my to push my own limits and that of the bike.
As well as Gravity enduro racing, I've also enjoyed sending it down as many downhill tracks as I can find......The steeper the better!!


Shockcraft & Biken Newsletter
The May Bike of the Month was included in our
April/May newsletter
. If you're interested in receiving our future newsletters sign up
here
.
⁠