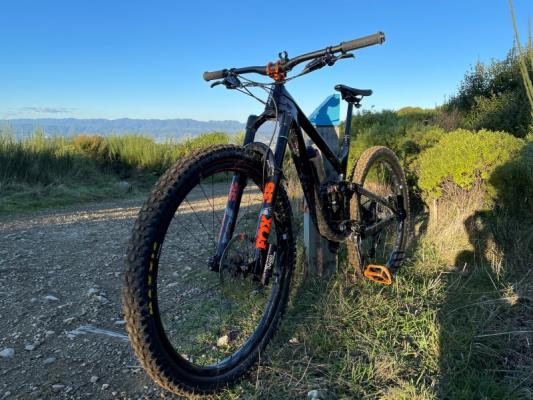 Bike of the Month & Newsletter July 2021
31 July 2021 1:13:36 pm NZST

Bike of the Month July 2021
July Bike of the Month is owned by Jen of Wellington: a Giant Trance X Advanced 29er with Zoom Tuned Fox 36 GRIP 2 forks with Vorsprung Secus & DPX2 rear shock.

Jen's story is for everyone struggling with setup of a new bike. It's a reminder that stock suspension, no matter how much you paid, no matter how shiny and how many adjusters, is still stock suspension and clickers can only do so much. Massive gains are waiting for those willing to take the journey into suspension tuning.

Getting bounced off roots, having your hands buzzed numb, dead feeling suspension. None of that is acceptable. It can all be fixed.

Jen was lucky enough to contact us when we needed someone to test our new Zoom Tune framework. Our new Zoom Tune is fully engineered tuning of a fork and shock, fixing stock damper issues to cure harshness, reshaping damper curves, increasing damping to improve support and reshaping air spring curves to suit.

It works. Very well. So well we warn customers to be careful of their new found speed and confidence. See Jen's full comments below.

Jen's feedback:
I got in touch with Dougal after completely failing to get the suspension on my new bike to work for me. I've mainly been riding road over the last few years so was beginning to think I maybe had unrealistic expectations and modern suspension wasn't all it's made out to be. I tried a couple of local tuners and got responses ranging from: "there's heaps of adjustment in those dampers, just needs a service", to "only a coil will fix your problems" and a variety of other fairly unhelpful responses. Fortunately I then stumbled across Shockcraft and a quick email to Dougal reinforced my suspicions – I wasn't imagining things and this isn't how it's 'supposed' to be.

Dougal's team worked their magic on both my fork and shock, as well as installing a Vorsprung Secus for me. The service from Shockcraft was top notch and Dougal went out of his way to time the jobs to keep me riding for as long as possible – fixing the issues turned out to be quite an involved process. I was initially sceptical about whether I'd notice a significant difference but can honestly say the tuning has totally transformed the bike: bumps and tree-roots just disappear, great support in corners and buckets of traction both up and downhill. I'd love to say I land all my drops like a cat now but there's a slight skills deficit there to overcome first…… I can't blame the tools anymore!

My issues were no doubt exacerbated by being on the light side (sub-60kg) but I can't help but wonder how many bikes get written off by their owners due to bad (or insufficient) suspension tuning. It's a shame companies like Shockcraft are the exception in this industry.


Shockcraft & Biken Newsletter
The July Bike of the Month was included in our
July newsletter
. If you're interested in receiving our future newsletters sign up
here
.